How to Prevent Leaks and Water Damage in the Laundry Room [Video]
This video was produced by This Old House and sponsored by Travelers.
(SPEECH)
[MUSIC PLAYING]

(DESCRIPTION)
Logo, This Old House. Helping Prevent Leaks and Losses, sponsored by Travelers.

(SPEECH)
RICHARD TRETHEWEY: Hello, I'm Richard Trethewey, the plumbing heating expert from This Old House and Ask This Old House, and we are back with Kevin Arpin. Kevin is a forensic engineer with Travelers Insurance. Hello, Kevin, how are you?

KEVIN ARPIN: Good, Richard. How are you?

RICHARD TRETHEWEY: Good. Now we've talked before about bathrooms and kitchens, but losses can happen all over the house, right?

KEVIN ARPIN: That's right. Failures can occur anywhere in the house. But one room you might want to pay attention to is your laundry room.

RICHARD TRETHEWEY: A couple of big items in the laundry room. You got the dryer, you got the washer.

KEVIN ARPIN: That's right. And I think with the dryer, everyone's familiar. You've got to keep that lint trap clean so you could have good exhaust.

RICHARD TRETHEWEY: There's also a washing machine that's got water connected to it.

KEVIN ARPIN: That's right. A lot of things can go wrong with your washing machine. A couple of things you might want to pay attention to are the valves, and the supply lines that bring the water to your washing machine. You can inspect them and look for signs of problems. For example, this one's got a problem, Richard.

RICHARD TRETHEWEY: That must be near its expiration date.

KEVIN ARPIN: This one expired long ago.

(DESCRIPTION)
Rust.

(SPEECH)
RICHARD TRETHEWEY: So on any washing machine, you got a hot and a cold. And it typically has valves like this, that you should turn them off when you're done, turn them on when you do, to depressure the hose, but nobody does it. They also make, and we've used these for years, a valve like this. And it has an off and an on, and a single lever right here. And so when you're done with the wash, you then come down and you stick it from on to off, and it takes the pressure off the hoses. But guess what?

(DESCRIPTION)
Points

(SPEECH)
Nobody does that either.

They make another version that we've used which has got electronic head here that is really brilliant, I think. You plug the electrical connection for the washing machine into here, there's another cord that plugs in, and so that means the hoses only get activated when the electrical amp drop comes on that you've asked the washing machine to do. So it's really, really safe. I love this. What other things you're hearing about in the laundry area?

KEVIN ARPIN: If you run your washing machine, you hear a lot of banging, or you see your pipes jumping up and down, it could be due to water hammer. And water hammer is pressure surges that occur when those fast-acting valves in your washing machine open and close.

RICHARD TRETHEWEY: That water wants to move the velocity and just bang those pipes. And it can make [INAUDIBLE] So a couple of things we've shown through the years-- this is just an air chamber. This is an add-on air chamber that the washing machine hose would go here, and this has a little air in it. And when you turn it back on, the water will compress against the air and then act like a little shock absorber. But over time, the air will slowly dissolve into the water, and you will lose its effectiveness.

This is the next generation of that-- this is a water hammer arrestor. And so if you look inside, what it's got that's different is a bladder. So you see this bladder, a neoprene bladder, and it's got air on this side under pressure, and water in this side. So now when that valve sends that water up, this thing acts like a shock absorber. So we believe in these, and love these things. Any other final notes around the laundry?

KEVIN ARPIN: Yeah. I think you want to pay attention to your drain hose too. So every washing machine has a drain hose where the water goes out to your city sewer or to your septic tank. It might look something like this. The white pipe would be the drain in your house that goes to your city sewer or to your septic, and this is the drain from your washing machine. When it turns on and water runs through it, it wants to pop off. And if it does, you're going to release a lot of water into your house and cause a lot of damage.

So you want to make sure these two are connected and secured properly. A lot of different ways to do that-- consult with a plumber if you have any questions.

RICHARD TRETHEWEY: OK. Final tip?

KEVIN ARPIN: Final tip-- don't run your washing machine when you're asleep or when you're away. Do it when you're awake, when you can catch a problem quickly and mitigate damage to your house.

RICHARD TRETHEWEY: Kevin, awesome. Thank you, as always.

KEVIN ARPIN: Thanks, Richard.

[MUSIC PLAYING]

(DESCRIPTION)
Logo, Travelers. Learn more at travelers.com/water
Your washing machine and water lines are potential sources of water damage at home. Travelers Forensic Engineer Kevin Arpin helps explain how to help prevent such incidents, in a conversation with This Old House Plumbing and HVAC Expert Richard Trethewey.


The views and opinions expressed in this video regarding products featured or other information are not necessarily Travelers' views. Third-party names and trademarks referenced in this video are the property of their respective owners. Neither Travelers' sponsorship of the video nor reference to third-party names, trademarks or products is intended as, and does not imply, sponsorship, approval or endorsement of the products, statements or other information contained in the video.
More Prepare & Prevent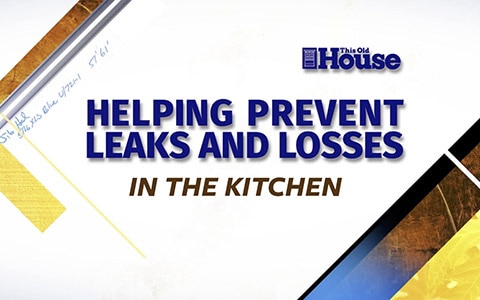 Appliances, sinks & plumbing systems can be potential sources of water damage in your kitchen. Learn how to be proactive in preventing kitchen water damage.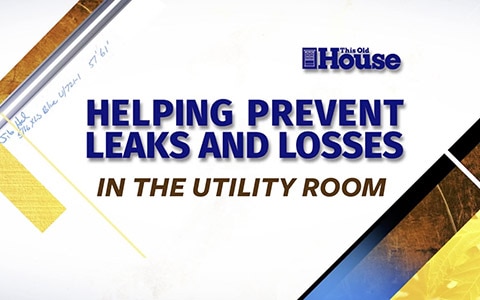 Learn how to turn off your main water valve and other proactive steps that can help prevent water damage in your utility room.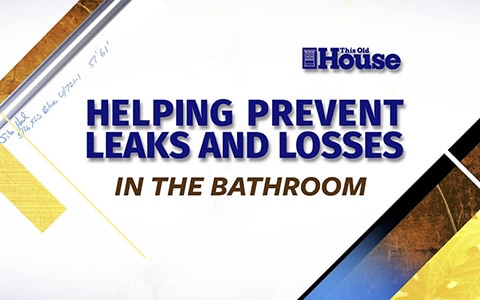 From toilets and tubs to faucets and your plumbing system, bathrooms can be a big source of potential water damage in your home. Get tips on how you can be proactive in helping prevent bathroom water damage.