Policy Services, Claim Services and Safety Resources for Assigned Risk Workers Compensation Policyholders
Travelers is a leading assigned risk workers compensation servicing carrier and the largest1 writer of workers compensation insurance in the United States.
Workers compensation coverage is required by law in most states. For employers who are unable to obtain coverage through the voluntary market, most states offer an assigned risk option. This ensures that employers can obtain workers compensation coverage as required by law.
Travelers provides the same full array of policy, claim and loss prevention services to assigned risk customers that are provided to all workers compensation customers.
Policy Services Using MyTravelers® for Business
MyTravelers for Business provides convenient online access to assigned risk workers compensation policyholders for easy management of their policies.
With MyTravelers for Business, policyholders have easy access to the tools and resources needed to manage their policies, including the ability to:
View and pay bills quickly and easily.
Access policy and documents.
Request loss runs.
Request a Certificate of Insurance.
Initiate, view status and complete premium audits.
Register for MyTravelers here. Once on the page, select the For Business Insurance option and register.
Claim Center: Everything You Need at Your Fingertips
Travelers Claim Center includes useful resources to help you manage claims, including access to claim status, file uploads and secure messaging to Claim professionals.
Create a Culture of Safety in Your Workplace
Source:
1S&P Global Market Intelligence, based on 2020 direct premiums written reported by Forbes at https://www.forbes.com/advisor/business-insurance/largest-workers-compensation-insurance-companies/
Related Products & Solutions
Delivering a broad range of innovative services, to help protect your employees, backed by more than 100 years of experience.
Offering a wide range of general liability options to help protect your business.
Providing an extra layer of protection with monoline umbrella and excess liability for the big, unexpected events.
Insights & Expertise
Continuous onboarding and training of employees can help overall retention. Create an employee onboarding and training plan.
A process for employee engagement and support that focuses on safety and wellness can help with job retention and help promote wellness.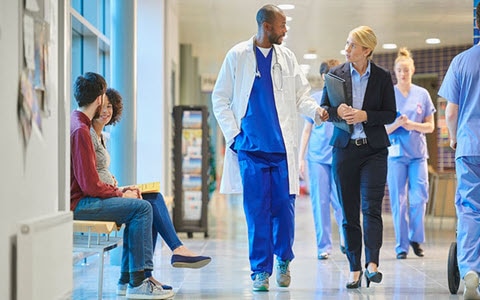 Travelers Workforce Advantage® can help businesses promote employee health and safety.
Related Services
With more than 115 years of risk expertise and a staff of 500+ Risk Control consultants, Travelers has the experience and technical proficiency to help businesses manage their risks.
Our knowledgeable Claim professionals will respond to your needs with speed, compassion, integrity and professionalism. It's our business to help keep you in business.